Meet Our Talented Teachers
DeRock Tucker
Derrick "DeRock" Tucker is a singer, songwriter, multi-instrumentalist, and producer from Long Beach, CA. He began inspiring music students with piano, voice, guitar, ukulele and bass lessons in 2006, and teaching music has been his long-time passion ever since. He received training in both classical and jazz bass at LB Polytechnic High and then continued on to the University of Southern California, where he pursued studies in vocal jazz and psychology, as well as piano & guitar.
...
DeRock has performed and recorded with artists such as Yuna, Jhene Aiko, DJ Premier, Lauryn Hill, Deap Vally, Ikey Owens, Abra, and produces up and coming artists in North Hollywood. Music Junction is excited to have DeRock on their team of well-qualified teachers and talented musicians!
We're glad you're excited and want to get started!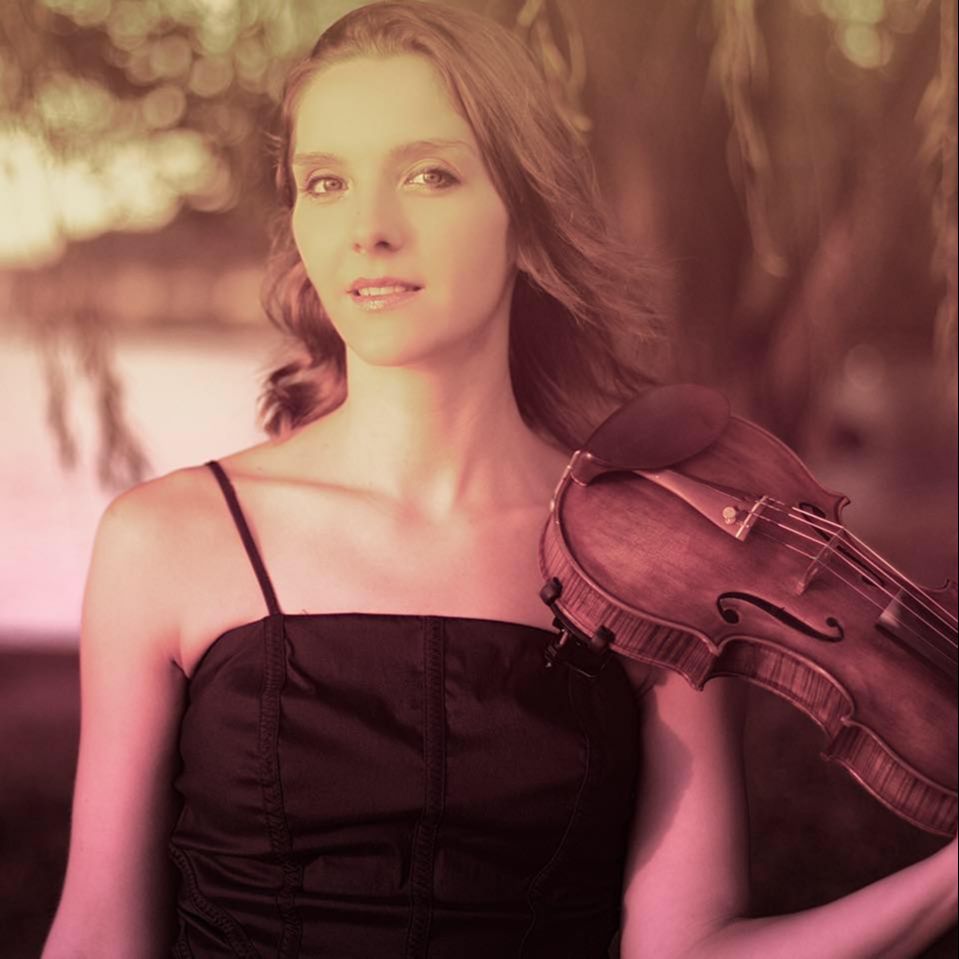 Margarita Krein
Broadly gifted and experienced as a teacher, Margarita teaches the violin, piano, ukulele, guitar and vocals at Music Junction. This makes sense because she started to play the piano at the age of 3 and the violin at 5! She studied music in Europe at the Music School for the Gifted in Latvia and Italy, and in the United States at Mannes College, The New School For Music in New York, College of Music at Michigan State University and Manhattan School of Music in NYC.
...
Margarita is a recipient of a Career Grant from the Rachel Elizabeth Barton Foundation, Joyce Dutka Arts Foundation, "TILTS" Foundation and European Union Foundation. Margarita performed as a soloist on a TV show "Young Concert Prodigy," made recordings for BBC Radio and Latvian Radio, and acted in a documentary film "Chasing The Moment".
Ms. Krein studied with world-renowned teachers, participated in major music festivals and performed in Italy, United States, Sweden, Israel, UK, France, Germany, Czech Republic, Estonia, Slovenia, Latvia and Russia. She won First Prizes and Grand Prix in several competitions in United States, Latvia, Italy and Russia. Ms. Krein also worked in several orchestras such as Florida Grand Opera in Miami, Palm Beach Symphony, International Chamber Soloists and Symphony of the Americas.
Her passion for music extended to extensive travel around the United States, composing several pieces, recordings and songs on the road. She creates extensive musical YouTube and Instagram content, and also teaches her own children a wide array of musical instruments and vocals. Music Junction is happy to have Margarita on their team of skilled and talented teachers!
We're glad you're excited and want to get started!
Adrian Bañuelos
Adrian Bañuelos is a multi-instrumentalist, singer, and composer born in Los Angeles. He began his music studies in a rock and roll setting which eventually led him to study classical music at California State University of Northridge and California State University of Fullerton. He has been teaching music since 2010 and enjoys teaching what he's learned over the years to students who share the same passion for music.
...
Adrian has performed in various types of productions such as rock bands, church choirs, operas, wedding and funerals; just to name a few. His passion lies in composing and performing new music. Adrian is a very talented and passionate teacher, and Music Junction is thankful to have him on the team!
We're glad you're excited and want to get started!
Salinay Abramyan
Salinay Abramyan has two passions: music and holistic health. The twelve years of private lessons sparked the joy within her to become a concert pianist and music teacher. She hopes to inspire children of all ages to explore their talents and encourage them to nurture their creativity. She has played piano since the age of six and after obtaining her diploma for social music, she became drum major of Glendale High School. Marching band was an amazing experience where she explored playing the clarinet, piano, and honing her skills in leadership by conducting and leading rehearsals for over a hundred-member band and color guard.
...
After graduating high school, she began her journey into holistic health and became a Certified Integrative Nutrition Health Coach, as well as an NLP Practitioner. She is the founder of Havenzen Holistics, a holistic health practice that encourages clients to heal chronic health conditions with EFT tapping, herbs, trauma therapy, and neuro-linguistic programming. Salinay is a firm believer in the incredible power of the human mind and body, that is responsible for healing itself, as it is a self-healing mechanism.
She has a passion for classical music, reading books about the power of the human mind, and spending time with her two yorkies grounding anywhere where there is sunshine.
We're glad you're excited and want to get started!
Sevana Abramyan
Sevana Abramyan, a professional violinist with over twenty years of experience, has participated in a myriad of concerts, competitions, and special events throughout her career. Highly skilled in chamber performance, classical music, and modern adaptions, she is an accomplished musician who has demonstrated the ability to perform contemporary and classical pieces as a participant in both ensembles and orchestras. A member of the Ani String Quartet, she has studied scores to develop suitable interpretations of pieces written by J.S. Bach, Handel, Armenian composer Komitas, and various other composers from different musical time periods.
...
As a String Coach at Glendale High School, she has guided students through rehearsals with Symphonic Orchestra and String Orchestra to prepare for upcoming annual festivals and competitions. While collaborating with fellow coaches and teachers, she prioritizes improving students' technical and musical abilities. She earned her Certificate of Merit from the Music Teachers' Association of California (MTAC) in both Music Performance and Music Theory to further develop her abilities on the piano and violin. She also received her Diploma in Social Music in piano performance from the National Guild of Piano Teachers - American College of Musicians (NFSM). In addition to performing at several venues, including Colburn School Zipper Concert Hall, California State University Fullerton Recital Hall, and Cal State University Northridge, she was an active participant of annual Armenian Allied Arts Association competitions and American String Teachers Association (ASTA) events. She is a graduate of Woodbury University and obtained a Bachelor of Business Administration (BBA) – Management degree in June of 2020.
We're glad you're excited and want to get started!
Jack Krimmel
Jack Krimmel is very excited to be part of the Music Junction team! After graduating with a degree in Music Education in 2015 from Grove City College in Pennsylvania, Jack began his teaching career as a high school choir director in Loudoun County Public Schools (Leesburg, Virginia). For six years, Jack taught choir/musical theatre to students grades 9-12. He also served as Music Director for the award-winning spring musicals each year. In July of 2021, Jack moved across the country to Los Angeles to pursue more music performance/teaching opportunities on the west coast. In December, he sang with Kira Alvarez Productions as a Holiday Caroler.
...
In addition to his passion for music, Jack enjoys graphic design, writing, and trying out as many coffee shops in LA as he can.
We're glad you're excited and want to get started!
Reese Massey
Reese Massey is a recent music education graduate from Berklee College of Music in Boston, MA. Having grown up in Los Angeles, Reese spent her childhood singing in every choir she could find. She started taking vocal and piano lessons at a young age, but soon learned that her passion was singing with others. At Berklee, Reese performed in countless shows as a soloist, background vocalist, choir member, and accompanist.
...
Additionally, she spent her time arranging a cappella music, songwriting, and directing numerous choirs. With vast performance experience, Reese enjoys singing and performing all genres from classical to jazz! However, her biggest passions lie in teaching music.
Reese has a focused and engaging teaching personality. She strives to be genuine in everything that she does and believes her teaching reflects that. Being a preschool music teacher at Small World Child Care helped her to become comfortable teaching younger ages and meeting students where they were. She learned how to balance making music class fun while also making sure the students were learning important skills. Additionally, during her time at Berklee, Reese focused on vocal pedagogy where she learned vocal anatomy as well as how to communicate vocal concepts and techniques to a variety of different ages. She prides herself in her ability to teach the same concept in a multitude of ways, an essential skill for a voice teacher.
To Reese, teaching music is not a back-up, but her goal. The more she learned about music education and vocal pedagogy, the more she fell in love with teaching. In fact, Reese comes from a long line of music teachers. There has been a music teacher in every generation of her family starting with her great great grandparents! Reese truly feels a passion for teaching and showing children the joys of music as an art as well as sharing the socio-emotional benefits of music with her students.
We're glad you're excited and want to get started!
Josh Kim
Josh Kim is a multi-instrumentalist, passionate teacher, and caring educator that always puts students first. Josh teaches piano, singing, guitar, and ukulele lessons at Music Junction. He also loves working with kids in the classroom setting, and has spent many years teaching music class to children in a local private school. Josh firmly believes in anyone and everyone's innate ability to be creative, inspired, and musical, and works hard to get them to their musical goals.
...
After spending nearly a decade pursuing a wide range of music industry positions, Josh focused in on his musical journey and obtained a Master's in Music Education at University of Southern California. Josh is a very talented and well-rounded teacher at Music Junction that every student will enjoy!
We're glad you're excited and want to get started!
Andrew Heavelin
Andrew Heavelin, a California-based classical guitarist, pianist and teacher contributes to the excellence of Music Junction's education team. Born and raised in LA's San Gabriel Valley region, Andrew began his music studies at Pasadena City College, where he received honors for his contribution to the program. As a member of PCC's resident quartet, he performed regularly in the area.
...
In 2014, Andrew relocated to Humboldt State University and received a Bachelor's degree in classical guitar performance. While there, Andrew performed regularly in the area, and received various academic and musical honors.
In May 2018, Andrew received a Master of Music degree in guitar performance from the San Francisco Conservatory of Music, where he studied under Marc Teicholz. While at the Conservatory, Andrew had the honor of working with some of the top professionals in the field, including playing in master classes for Meng Su of the Beijing Guitar Duo and Gaelle Solal. He has performed alongside John Dearman of the Los Angeles Guitar Quartet, and in studio recitals with Marc Teicholz. Andrew has been featured as a guest soloist with the LIKHA Pilipino Folk Ensemble at San Francisco's iconic Palace of Fine Arts, and has performed widely in the Bay Area.
We're glad you're excited and want to get started!
Armine Aloyan
Armine Aloyan was born in Armenia where she started playing the piano at the age of seven. Very soon she understood, that this wonderful instrument will accompany her all her life.
At the age of sixteen Armine entered Yerevan State Conservatory in Armenia, where she earned with Honor her Master`s Degree in Pianist, Accompanist. For her further musical and educational development she came to Vienna in 2001. In the capital of music she studied musicology at the University of Vienna where she earned her Master`s Degree in Musicology. It were wonderful and musically very intense years that have influenced her artistically, musicality.
...
A unique combination of Russian and European schools of piano playing gives her a vast musical perspective, evident in her powerful technical capacity as well as her understanding of musical interpretations.
Armine has performed on numerous famous stages of the world's cultural capitals and received universal applause from audiences because of her purity of tone, powerful technical capacity and deep musical interpretation. Her concert appearances include countries such as Austria, Germany, Hungary, Czech Republic, Spain, Russia, Armenia, France . She has also collaborated with many other instrumentalists and singers throughout her many years of performing and teaching. Armine Aloyan is accomplished pianist, musicologist, highly experienced piano and music Instructor. She has over 15 years of successful teaching experience with children and adults and over 20 years of performing experience in classical music. In her piano lessons, Armines main goals are to inspire, provide expert instruction, and to bring joy to students through positive learning experiences. She helps students of all ages and abilities discover (or rediscover) a passion in studying music, develop better cognitive and fine motor skills, and to gain exposure to different styles and genres of music. She works with various levels of difficulties, different cultural backgrounds, and musical diversities. Besides teaching the Piano, Armine was involved in several other activities: She worked as Co-Founder of the European and International Music and Culture Association, as counsellor of Cultural affaires in the Embassy of the Republic of Armenia in Austria and as Vice Principal at the School and Planed, scheduled and organised cultural events, concerts festivals with different artist's musicians, institutions, directors, stage managers.
We're glad you're excited and want to get started!
Trevor Snow
Trevor Snow teaches Guitar, Electric Bass, Ukulele, Piano, and Music Theory Composition/Arrangement at Music Junction, and he is dedicated to the enrichment of others through music education. His teaching style supports all ages of students, kids to adults. For younger, beginner students Trevor, engages students in discovering the wonder of learning and playing music through his patience and kindness. For intermediate to advanced students, Trevor works with their goals and interests, whether that is becoming the next Hendrix or learning a few chords to entertain their friends and family around a campfire.
...
Trevor's a very seasoned and highly trained performer, composer, teacher, and engineer with 17 years of experience on guitar. His passion for music's therapeutic and experimental nature has inspired his career in music. In 2015, he graduated with honors from Santa Fe University of Art & Design with a B.A. in CONTEMPORARY MUSIC, and has been teaching ever since.
When Trevor is not teaching, you might find him writing/recording/performing music, practicing yoga, hiking or reading. Music Junction is proud to have Trevor on their team of well-qualified and talented teachers!
We're glad you're excited and want to get started!